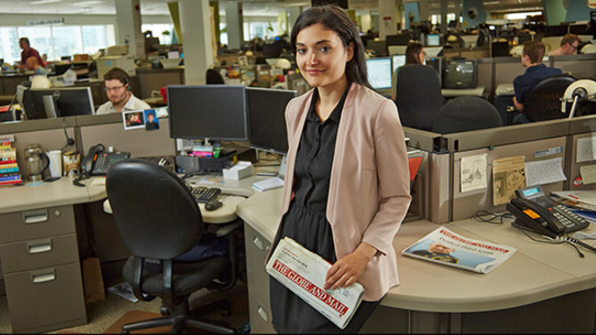 Journalism fellowships and training programmes are an excellent opportunity for journalists to stay curious and motivated when it comes to storytelling! From improving your writing to mastering new reporting techniques, such programmes can help you tell better stories and help your media career.

Below you will find a selection of some of the best journalism fellowships preparing you for today's fast-paced digital newsroom. Apply today and expand your skills and mind.

1. Knight-Visiting Nieman Fellowships
Location: Cambridge, Massachusetts, USA
Deadline: 1 December 2016
Description: Based at Harvard University, Nieman Fellows attend seminars, shop talks, master classes and journalism conferences designed to strengthen their professional skills and leadership capabilities.

2. World Press Institute Fellowships
Location: Various locations
Deadline: 15 February 2017
Description: Non-U.S. journalists with at least five years' experience in print, online or broadcast media can apply for this fellowship. From mid-August 2016 to
mid-October, you'll develop your knowledge of American journalism and report on a variety of social issues.
3. Fellowship in Global Journalism
Location: Toronto, Canada
Deadline: 1 February 2017
Description: The University of Toronto's Munk School of Global Affairs invites specialists who have a graduate or professional degree or a few years' work experience to apply for a Fellowship in Global Journalism. Fellows will spend 2017 reporting on their own discipline for major media while being mentored.
4. Reuters Journalism Training Programme
Location: London or other major bureau in Europe, Middle East or Africa
Deadline: 9 December 2016
Description: The 4-6 month on the job training program is an opportunity for recent graduates, early career reporters or professionals with 2-3 years' experience looking to switch careers into journalism.

5. Daniel Pearl Investigative Journalism Initiative
Location: Various
Deadline: 15 March 2017
Description: With the help of our prestigious panel of journalists, Moment select and mentors the writer, providing her or him with journalistic as well as financial support.The fellowship offers $5,000 to cover the costs of the project—$2,500 up front, and $2,500 upon completion of the story. The edited stories will be published in Moment, perhaps in conjunction with another media outlet. Applicants must be between the ages of 22 and 38; international applicants are welcome to apply.