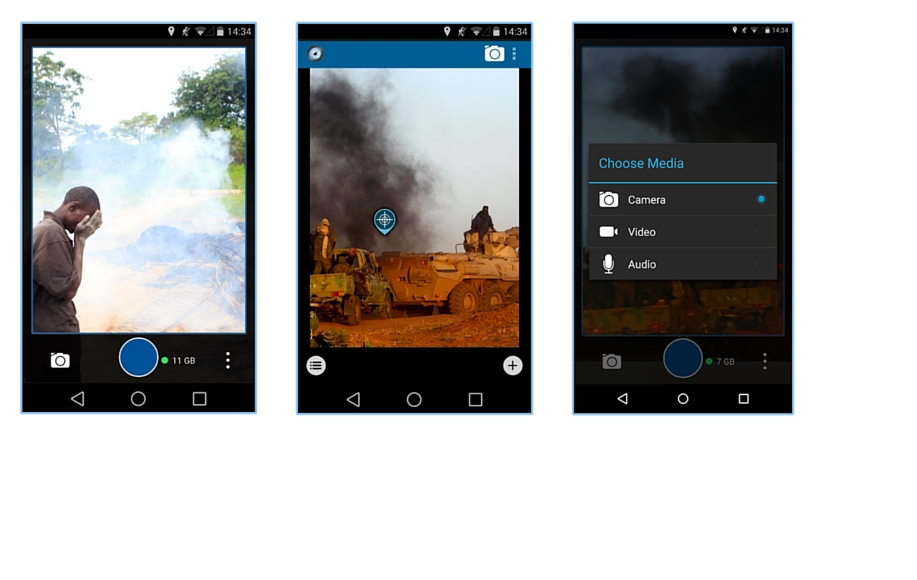 Journalists are no strangers to the benefits and drawback of using user generated content for storytelling. Whether citizen journalists or activists are on the ground sending in sensitive footage from war zones or capturing human rights abuses by police at a local protest, verifying this sensitive content can often be a challenge. In response to addressing those problems, more eyewitness apps are launching to help activists prove their video and for journalists to verify its authenticity. Let's take a look at three eyewitness apps activists can count on when reporting on human rights abuses.
Mobile Justice
The Mobile Justice app makes it easy to record interactions with the police. Available in 17 states across America, it has three functions. 1) Record 2) Witness 3) Report Whatever you record, it will be sent to your local ACLU (American Civil Liberties Union - the organisation that launched the app.)
Informacam
InformaCam is a mobile application built by The Guardian and Witness. The app enables users to inflate image and video with extra points of data, or metadata. The metadata includes information like the user's current GPS coordinates, altitude, compass bearing, light meter readings, the signatures of neighboring devices, cell towers, and wifi networks; and aims to shed light on the exact circumstances and contexts under which the digital image was taken.
Eyewitness to atrocities
In 2015, the International Bar Association and LexisNexis teamed up to create the Eyewitness to Atrocities app. The Android app is designed to record photos, videos and audio recordings in a simple and secure way. While it resembles any photography app at first glance, it has a secure mode which means that if your phone is examined by a security official they will not see any of the material you have recorded. The app stamps recordings with GPS coordinates, the time and location and other data which will show exactly where it was recorded and whether it has been edited. Then, when the user is in a safe location, they can upload their material to a secure database owned by the EyeWitness project.

Got a compelling eyewitness app you want to share? Tweet us at @AdvocAssembly !
Want to learn more about human rights reporting? Sign up to Advocacy Assembly's free course "Documenting and supporting human rights abuses using testimony".