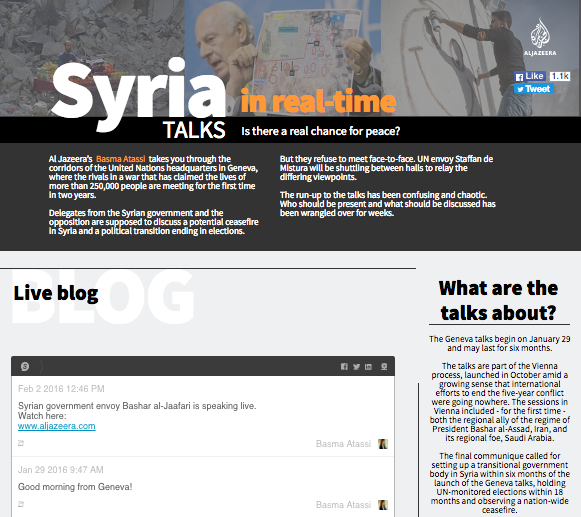 Breaking news is no longer just about a headline. Today audiences want more. They want context or exclusivity. They want to be taken behind the scenes where the cameras won't go. That's why more and more news organisations are experimenting with different formats of live blogging. To inspire you, we take a look at three different ways to live blog major news events.
Exclusive access
When it comes to breaking news, Al Jazeera uses live blogs to keep their viewers up to date on the latest information. In January 2016, Al Jazeera took their audience inside the talks between Syrian officials and key stakeholders. The live blogs was filled photos, quotes, and news updates from the discussion. What made so appealing was the exclusive access combined with good reporting and lots of context.

Show the human angle
In honor of this year's Boston Marathon, Run Blog Run published a live blog featuring photos, quotes, and news updates from the event. The live blog featured big names who participated in the festivities, social media posts honoring the victims of the Boston Marathon bombing in 2013, and useful information on the route. It's a moving live blog that celebrates the passion of the event as well as the human angle.

Beyond the cameras
The Wall Street Journal takes their audience where the cameras are off-limits, providing live blog coverage of the U.S. Supreme Court's review of the Obama administration's immigration policy. In April 2016, the WSJ turned the live hearings into a live blog with updates from the courtroom. What's great about this format is that it reveals the depth of WSJ's news reporting and also the human side of the story.
Got a good live blog format that we missed? Tweet us the name at @advocassembly
Want to learn how to tell great stories? Sign up to Advocacy Assembly's free course "Media match-making for freelance Iranian journalists" taught by The Rory Peck Trust.