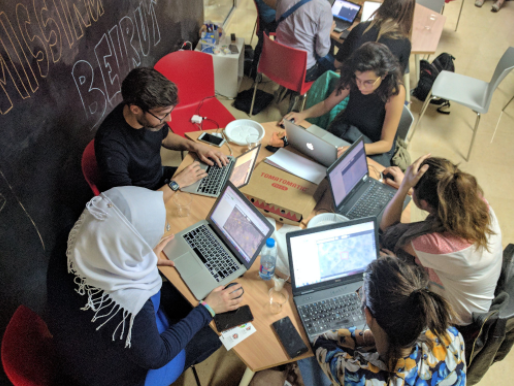 Launching a digital campaign doesn't just happen with the click of a button. Understanding your audience, employing the right tools and having a well thought-out strategy are some of the many things an NGO or a digital activist must consider.
Advocacy Assembly sat down with Jessica Dheere, the co-founder of Social Media Exchange (SMEX), a Lebanese NGO that works to advance self-regulating information societies in the Middle East and North Africa. Jessica shared her experience about what it takes to launch a successful digital campaign, along with the challenges digital activists face operating in the Middle East.
1. What are some of the challenges of using digital tools for social change?
There are three key challenges associated with using digital tools for advocacy. First, campaigners need to have broad and deep digital literacy and a familiarity with the huge catalogue of tools at their fingertips to use them effectively. And there's a lot of trial and error that must take place long before your campaigns begin. We've tried to make this a little easier with our site Tasharuk.net, which curates the best guides for using social media strategically and allows organisations to post their relevant resources. A second challenge is grabbing people's attention online. When digital media was newer, it wasn't as difficult to be heard among the fray, but now with more than four billion people online and nearly two billion people on Facebook, you have to compete with a lot of noise. This means that it's more important than ever to innovate in your tactics and tell your story creatively. And you'll probably have to invest in ads to really get your message out. Finally, the third challenge is about monitoring and evaluating your success. While digital media gives us metrics on reach, demographics, and engagement that are unimaginable with more traditional media, these metrics are only proxies for change. Said another way, huge audiences don't necessarily mean huge success. Sometimes you're better off focusing on smaller groups who really care about your issue to achieve change.
2. What criteria should advocates/NGOs consider when choosing their digital tools?
People use different tools for different purposes, based on what sociologist Zeynep Tufecki calls their "specific affordances". This means that activists need to choose their tools and digital channels based on the features of the tool and the audiences they're trying to reach and the work they're trying to do. If you use a tool that the people you engage don't, your campaign will fail. For example, Telegram's broadcast ability makes it a really popular application in Iran, so campaigners will want to be there. If your campaign has great visuals, you may want to exploit Instagram. This also applies internal workflows. At SMEX, we use Facebook for sharing public events, because it's such a popular platform in Lebanon, and we use WhatsApp to coordinate private groups, but once that group needs to share documents, like joint statements, we turn to email or Google Docs. The key is to have experimented with these tools before you need them; don't try to learn them in the heat of a campaign.
3. What is one of the hurdles you encounter when running a digital NGO in the Middle East?
Raising money from individual donors or philanthropists is one of our biggest challenges. One reason for this is underdeveloped online payment systems in the Middle East. Online payments would let us collect small donations from individuals and reduce our reliance on external development donors. Nonprofits in the U.S. and Europe, for example, can more easily build their networks and contact lists and raise money through membership programs from people who are interested in their cause. Theoretically, this would help organisations like ours be more responsive to local needs and be more sustainable. Some regional entrepreneurs are trying to circumvent this challenge through crowdfunding platforms, like Zoomal and Giving Loop. So I'd keep my eye on them, too.
4. Tell us about some current and upcoming projects SMEX is working on.
At SMEX we both train on digital tools and raise awareness through research and policy advocacy on how to protect our Internet environment so that it remains a platform for free expression and organising that is also safe and secure. Right now, we're completing research on the laws affecting the digital sphere in all 22 countries of the Arab League (smex.org/adrd) and we're also mapping Arab telecom operators commitments to human rights online (smex.org/mobilize). And soon, we will be launching a new online course on our e-learning platform Nethawwal called Digital Activism after the Arab Spring that looks at how digital activism has changed and what new skills online activists need to have to be successful in their campaigns.
We're also working locally in Lebanon on a number of issues. Recently, as part of a program on youth and digital safety in Lebanon, we recently launched a video to raise awareness about the topic of " sextortion," a form of sexual exploitation that involves blackmailing people with sexual images or video. This has become a growing concern in Lebanon, leading to financial hardship and in some cases, even suicide. We realised that it was necessary to support our community by providing them with the reliable information and resources, so we created this video, which has been shared more than 700 times by municipalities, universities, and host of other institutions.
Finally, we've also just launched a new space, called Masaha, which means "space" in Arabic. Here, we host meetings of free expression activists, have interviewed the executive director of Wikimedia Foundation and the UN special rapporteur on free expression David Kaye, and host a lot of workshops. If you're ever in Beirut, we encourage you to stop by!
Interested in launching your own social media campaign? Check out SMEX's free Social Media Strategy course.