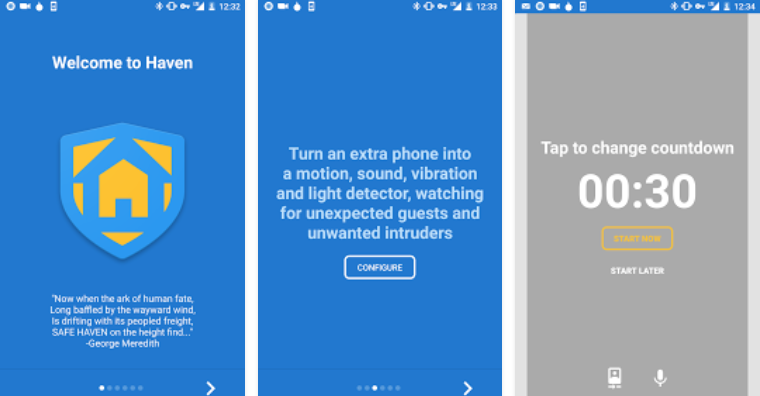 For journalists and activists concerned about their physical security, there's a new app out that could help protect you and your devices from harm's way. Dubbed Haven, the open source tool can turn any Android device into a remote security camera. Here's a quick round up of what you need to know about Haven.
Who is it for? Haven is for investigative journalists, human rights defenders, and people at risk of forced disappearance. More specifically, the app is designed for people who need a way to protect their personal spaces and possessions without compromising their own privacy.
How does it work? It uses an Android phone's sensors to detect changes in a room. For instance, it can record audio, video, take photos and also help you detect if your laptop has been physically tampered with.
How can it protect me? You can get real time alerts if someone has tampered with your laptop or entered the room. The app uses the microphone, motion detector, light detector, and cameras — to monitor the room for changes, and it logs everything it notices.
Who's behind it the app? The software was developed by famed whistleblower and former National Security Agency contractor Edward Snowden in collaboration with the Freedom of Press Foundation and the Guardian Project.
Where do I download Haven? The first public beta version of Haven has officially been released; it's available in the Play Store, F-Droid, and the open source app store for Android.
Concerned about your own digital security? Protect yourself and your sources by signing up for Security First's free courses where you can learn how to create strong passwords to recognise malware and phishing attacks and encrypt emails.