Many organizations rely on IODA data for reporting internet shutdowns including groups performing censorship-related measurements, activist organizations, advocacy groups and human rights organizations. Additionally, journalists from a variety of news outlets such as The Economist, The Wall Street Journal, The Washington Post, Newsy, and Wired use IODA data to track and report on connectivity disruptions worldwide.
Rebecca Jackson, a data journalist at The Economist newspaper, used IODA data to track the internet blackouts in the Ukraine war. She first came across IODA data during the start of the Ukraine war.
"I was really interested in tracking internet outages imposed by Russia and Ukraine, IODA had fantastic data," she says.
Jackson wrote a data piece, exploring the broader implications of internet disruptions in the context of the conflict in Ukraine. She used IODA data to look at which cities had outages and over what period of time.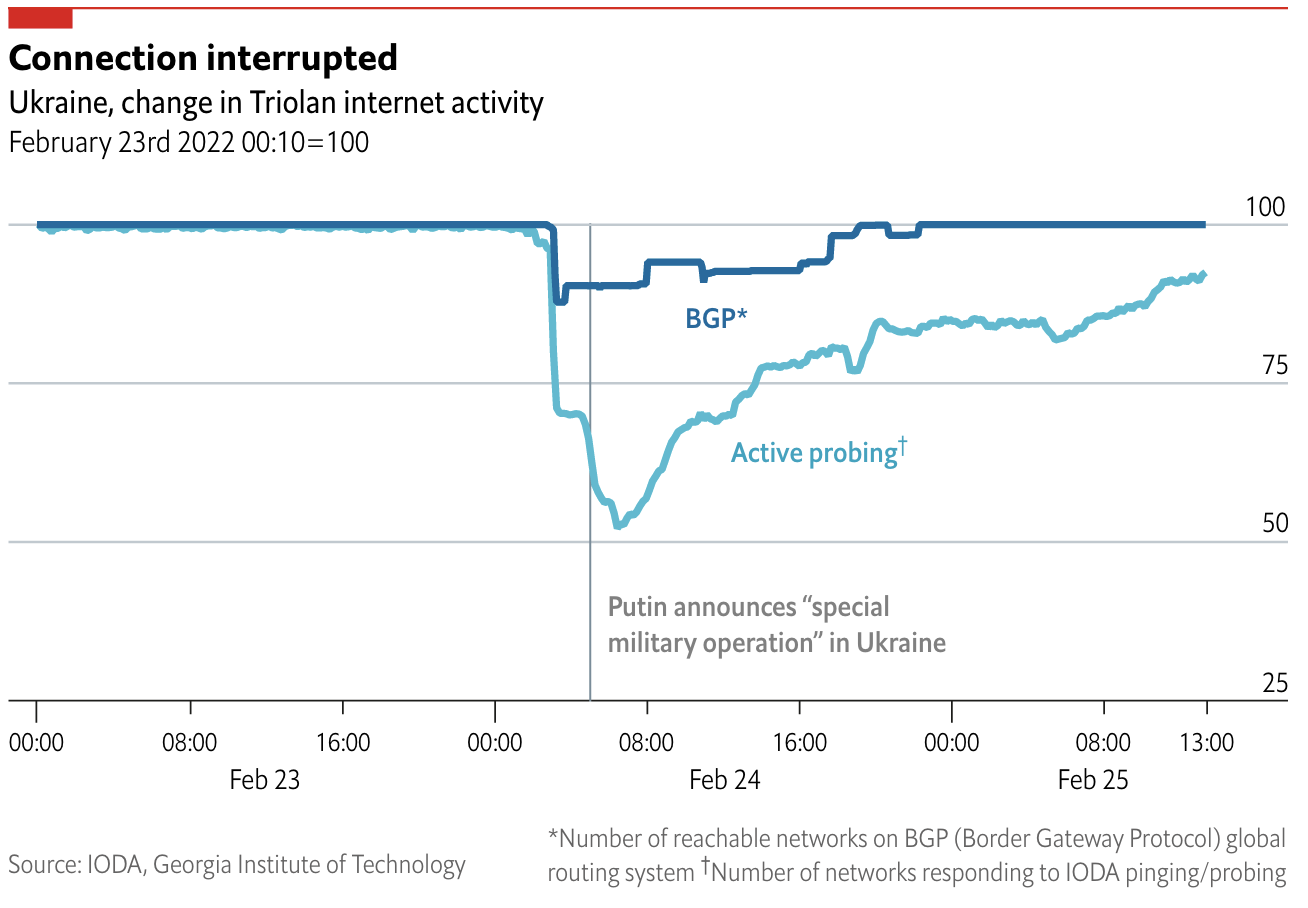 In this piece, the journalist explains to the readers how IODA is tracking these disruptions by combining information from measurement sources. Jackson also reached out to the IODA team for further collaboration.
"The IODA team of researchers were incredibly easy to work with and very responsive and gave me the data in a way that I could really work with it.", she says.
Following this initial collaboration with IODA, when Jackson was later looking at another internet shutdown story - but this time in Syria - she was able to verify that the Syrian government was blocking the internet in the early morning hours for three-hour periods to avoid students cheating on their high school exams.
"This has sort of big ramifications for the economy. And thanks to IODA data, I was able to track exactly when the internet outages occurred and what parts of the country."
This is a case study from our course 'Detecting Internet Shutdowns with IODA', in our Internet Shutdown Academy, which features 10 courses in seven languages, taught by experts from leading organisations. It is designed to educate activists, journalists, and anyone impacted by internet disruptions and online censorship.